North Korea took nuclear tensions to a whole new level yesterday when they fired a missile over Japan in what Prime minister Shinzo Abe called an "unprecedented threat." Peace appears to be fleeting.
Conspiracy Fact and Theory
North Korea Fires Missile Over Japan In Obvious Threat
North Korea took nuclear tensions to a whole new level yesterday when they fired a missile over Japan in what Prime minister Shinzo Abe called an "unprecedented threat."  Peace appears to be fleeting.
United States president Donald Trump was less harsh with his words, calling the missile an act of "contempt."  The missile, launched early on Tuesday Korean time, flew over Hokkaido island before crashing into the sea. And the missile was one more cog in the machine of tensions that are reaching boiling point as no side seems willing to back down until nuclear weapons are unleashed.
North Korea has conducted a flurry of missile tests recently amid growing international unease. This is the first time it has fired what is thought to be a ballistic weapon over Japan. On the two previous occasions its rockets crossed Japan – in 1998 and 2009 – North Korea said they were for satellite launch vehicles, and therefore not weapons. –BBC
But times have now changed, and the rogue regime seems more dedicated than ever to starting a third world war. The BBC also said that this latest launch appears to be the first of a missile from North Korea that is powerful enough to potentially carry a nuclear warhead.
South Korean military officials released the following information about the missile.
The missile was fired eastward just before 06:00 local time (21:00 GMT) from near the North's capital, Pyongyang – which is rare. Early analysis of the launch suggests the missile:
flew a distance of more than 2,700km (1,678 miles)
was likely to have been a Hwasong-12, a newly developed intermediate range weapon
reached a maximum altitude of about 550km (342 miles), lower than most previous North Korean tests
fell into the North Pacific Ocean 1,180km off the Japanese coast after breaking into three pieces
Japanese residents were terrified as warnings were issued and they were told to seek shelter in the case the missile hit the island. No effort was made by Japan to shoot down the missile.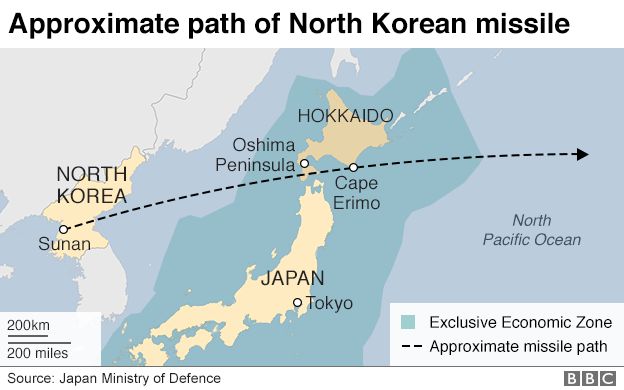 US and Japanese forces have just finished a joint drill in Hokkaido while another annual exercise involving tens of thousands of South Korean and US military personnel is still under way in South Korea. The North Korean dictator sees these regular military drills involving the US as highly provocative and perceives them as a rehearsal for an invasion.
This is by far, North Korea's most provocative missile test ever.  It shows clearly that the regime in Pyongyang is not intimidated by American threats and has not "backed down", as President Trump suggested two weeks ago.
In a statement, president Donald Trump said: "The world has received North Korea's latest message loud and clear: this regime has signaled its contempt for its neighbors, for all members of the United Nations, and for minimum standards of acceptable international behavior." He went on to say, "Threatening and destabilizing actions only increase the North Korean regime's isolation in the region and among all nations of the world. All options are on the table."
That sounds like war…
Delivered by The Daily Sheeple
We encourage you to share and republish our reports, analyses, breaking news and videos (Click for details).
---
Contributed by Dawn Luger of The Daily Sheeple.
Dawn Luger is a staff writer and reporter for The Daily Sheeple. Wake the flock up – follow Dawn's work at our Facebook or Twitter.