To live a self reliant lifestyle takes time, effort and certain amount of sacrifice to get to the level of preparedness that we want.
Editor's Choice
The Art of Self Reliance in 5 Steps
The journey toward self reliance has many paths. For some, you are beginning to distrust the food supply and want to grow our own food. Or, perhaps, you live in an area prone to many types of disasters and have seen how desperate people become when their needs aren't met. Or, perhaps you grew up in a family in which self reliance and certain skill sets were ingrained into you at a young age. Wherever your path started, the end result is the same – to be self reliant.
Frustration is a Part of the Journey
I'm going to be honest, when it comes to my own road towards self reliance, I get frustrated on a continual basis. My plan lately has been to increase my skills set and I've had some epic failures the past few months. The frustration has been enough to make me question myself and give up. But I know that I am my own worst enemy and those obstacles and mistakes are a part of the path that will help me in the long run.
Sometimes I begin wondering if self reliance is a magical, unattainable myth. It's such a simple concept but once you start on this path you realize how long the trek in front of you really is. After being on the self reliant road for five years, I am here to say that I still have a ways to go, but I'm enjoying the view along the way.
Courage and perseverance have a magical talisman, before which difficulties disappear and obstacles vanish into air.

– John Quincy Adams
Silence the Doubts
Don't fear mistakes -As a whole, we fear making mistakes. That fear prevents us from taking action towards our goals. Mistakes can create learning opportunities that are needed if we truly want to advance in our lives.
Avoid doubters – Stay away from people who reinforce the doubting voice in your head. Finding people who encourage and support your goals can help quiet the voice of doubt.
When in doubt, do – Self doubt prevents decisive actions. Action is the key to success. If you come across a situation where you begin to doubt your ability, take action.
5 Steps to Perservere
When you are in the midst of doubt, you have two choices: 1. Give up, and find an easier path, or, 2. Dig in and keep going. The glistening prize of self reliance is far too great for me to give up on. I made the choice to dig in and keep going and found some steps to help you reach this destination.
Like all things, you have to start with a goal in mind and develop a plan around it. Self reliance is the end result where smaller goals must be met in order to achieve it. These smaller achievements also help move you forward.
Set a goal – This may be to have enough supplies to live for 3 months, or 6 months or indefinitely. But set it and stick with it.
Plan a course of action – Break your plan down into smaller plans. I have had a lot of success by breaking down my preparedness plans into short term needs and long term needs. Look into the 52 Weeks to Preparedness to see how achievable these short term plans can be.
Prepare – It's time to prepare and know what to expect along the way. Here are four steps you can take to get you moving toward self reliant living.
Take a step – The path of self-reliance starts with only a single step and then another and another. Once we begin taking those first steps, we begin to see change and as a result, begin to adopt these new found changes and our lifestyle will transition into one that better supports our new way of life.
Don't give up – We all will fail from time to time – it's just a part of the learning process. But if your goal is important to you, when you do fail – you'll try again and again. We learn from these failures and become better through the learning curve.
I've realized that in order to be successful at something we have to stay the course. To live a self reliant lifestyle takes time, effort and certain amount of sacrifice to get to the level of preparedness that we want. When doubt takes over, I look back and see how far I've come and simply take a step and keep going.
Delivered by The Daily Sheeple
We encourage you to share and republish our reports, analyses, breaking news and videos (Click for details).
---
Contributed by Tess Pennington of Ready Nutrition.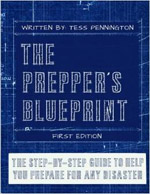 Tess Pennington is the author of The Prepper's Blueprint, a comprehensive guide that uses real-life scenarios to help you prepare for any disaster. Because a crisis rarely stops with a triggering event the aftermath can spiral, having the capacity to cripple our normal ways of life. The well-rounded, multi-layered approach outlined in the Blueprint helps you make sense of a wide array of preparedness concepts through easily digestible action items and supply lists.
Tess is also the author of the highly rated Prepper's Cookbook, which helps you to create a plan for stocking, organizing and maintaining a proper emergency food supply and includes over 300 recipes for nutritious, delicious, life-saving meals.