Moreover, flash flooding is responsible for more fatalities – more than 140 annually – than any other thunderstorm-associated hazard.
Editor's Choice
Storm Preparedness
Without fail, the spring season brings torrential thunderstorms to parts of the country with the ability of causing widespread damage from tornadoes, strong winds, hail and flash flooding. Moreover, flash flooding is responsible for more fatalities – more than 140 annually – than any other thunderstorm-associated hazard.
The United States gets an average of 5.9 hurricanes, 1,000 tornadoes and 10,000 severe thunderstorms. These storms bring unpredictable circumstances and can cause immense damage. But, rather than fear the unknown, it is best to put worries aside and be prepared.
The following are some important steps for ensuring you have the tools to brave potential storms.
Before the Storm
Create an emergency plan that all members of the household know.
Make a checklist with essential preparedness items to help you stay organized.
Store your emergency storm kit of must-have items in a reachable location. Remeber to include items such as a battery operated radio, flashlights, batteries, candles, matches, bottled water, blankets, non-perishable food, can opener, first aid kit, list of phone numbers, prescription medications and games to pass the time.
Listen to the news and local forecasts to give yourself as much notice as possible.
Remove dead or rotting trees and branches that could fall and cause injury or damage during a severe thunderstorm.
If a strong storm is imminent, play it safe and postpone outdoor activities.
Secure outdoor objects that could blow away or cause damage.
Get inside a home, building, or hard top automobile (not a convertible). Although you may be injured if lightning strikes your car, you are much safer inside a vehicle than outside.
Shutter windows and secure outside doors. If shutters are not available, close window blinds, shades or curtains.
Unplug any electronic equipment well before the storm arrives.
Secure a back-up generator, such as a Generac portable generator, and place it off the floor in case you experience flooding.
Make sure your generator has plenty of fuel to provide alternative power in case the electricity goes out. Note: Ensure your generator is in working order by checking the oil and adding fresh fuel with a bottle of  STA-BIL Ethanol Treatment to keep the fuel fresh and combat damage from ethanol in today's gasoline. Run the generator for a few minutes. If the generator does not start, add a bottle of Start Your Engines! Fuel Revitalizer to clean the fuel injectors, carburetor and intake valves and get the engine up and running quickly.
Additional Tips For Preparing for a Strong Thunderstorm
Obey evacuation directions in dire situations.
Make sure your cell phone is charged and keep a charger with you.
Set your refrigerator and freezer controls to the coldest settings to keep food longer should the power go out.
Fill your car's gas tank just in case you need to drive to safety.
Take out a reasonable amount of cash in case ATMs are out of order.
Tie down any large objects outdoors that may get thrown during a storm (e.g. patio furniture, toys) and place valuables inside in a safe place off the floor.
Ensure a supply of water for sanitary purposes by filling your bathtub, sinks and other large containers with water.
When a Storm is in Progress
Stay indoors and away from windows or glass doors.
Take refuge in a small interior room or closet or below ground if possible.
Listen to the news for updates and directions on how to proceed using your battery-operated NOAA Weather Radio for updates from local officials.
Avoid contact with corded phones and devices including those plugged into electric for recharging. Cordless and wireless phones not connected to wall outlets are OK to use.
Avoid contact with electrical equipment or cords. Unplug appliances and other electrical items such as computers and turn off air conditioners. Power surges from lightning can cause serious damage.
Avoid contact with plumbing. Do not wash your hands, do not take a shower, do not wash dishes, and do not do laundry. Plumbing and bathroom fixtures can conduct electricity.
Do not lie on concrete floors and do not lean against concrete walls.
Avoid natural lightning rods such as a tall, isolated tree in an open area.
Avoid hilltops, open fields, the beach or a boat on the water.
Take shelter in a sturdy building. Avoid isolated sheds or other small structures in open areas.
Avoid contact with anything metal—tractors, farm equipment, motorcycles, golf carts, golf clubs, and bicycles.
If you are driving, try to safely exit the roadway and park. Stay in the vehicle and turn on the emergency flashers until the heavy rain ends. Avoid touching metal or other surfaces that conduct electricity in and outside the vehicle.
As a bonus, to make the public more prepared, the makers of STA-BIL and Start Your Engines! are sponsoring  a Storm Preparation giveaway to a lucky winner! Simply read these storm preparedness tips and leave a comment on ways that you have prepared for this year's string of thunderstorms.
 The Storm Prep Giveaway is a $90 value and includes:

• American Red Cross Self-Powered AM/FM/NOAA Weather Radio and Flashlight
• 61-Piece First Aid Kit
• Potable Water Treatment Tablets
• Emergency Whistle
• STA-BIL Ethanol Treatment
• Start Your Engines! Fuel System Revitalizer
Following this post, a  winner will be selected at random on Friday, May 31. Good luck, everyone!
About STA-BIL
STA-BIL® is America's #1 selling fuel stabilizer. Stored fuel can go bad in as little as 30 days causing gum, varnish and corrosion to build up in the fuel lines and engine. STA-BIL brand products help keep fuel fresh and protect engines from corrosion, while cleaning fuel injectors, carburetors and intake valves to ensure your equipment from generators to chainsaws, leaf blowers and more are in working order when you need them most. Visit www.STA-BIL.com.
About Start Your Engines!
Start Your Engines!® is the easiest way to get hard-starting engines back up and running fast. It works by dissolving gas that has gone bad during storage and then moves through the fuel system to the engine where it ignites to get your equipment started quickly. Simply pour this advanced synthetic formula into the unit's fuel tank to cure hard starting, rough idling and stalling. Visit www.StartYourEnginesUS.com.
Disclaimer: The items featured in this giveaway were provided by Gold Eagle Co. and will be sent to the winner directly. Opinions expressed in this post are 100% my own. I have not been compensated for this post in any way.
Delivered by The Daily Sheeple
We encourage you to share and republish our reports, analyses, breaking news and videos (Click for details).
---
Contributed by Tess Pennington of Ready Nutrition.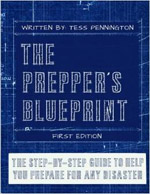 Tess Pennington is the author of The Prepper's Blueprint, a comprehensive guide that uses real-life scenarios to help you prepare for any disaster. Because a crisis rarely stops with a triggering event the aftermath can spiral, having the capacity to cripple our normal ways of life. The well-rounded, multi-layered approach outlined in the Blueprint helps you make sense of a wide array of preparedness concepts through easily digestible action items and supply lists.
Tess is also the author of the highly rated Prepper's Cookbook, which helps you to create a plan for stocking, organizing and maintaining a proper emergency food supply and includes over 300 recipes for nutritious, delicious, life-saving meals.