Edward Snowden is among more than 100 signatories on an open letter to president Donald Trump calling for clemency for Julian Assange and other WikiLeaks staff members.
Editor's Choice
Open Letter: Snowden Urges Trump To Drop The Case Against Julian Assange
Edward Snowden is among more than 100 signatories on an open letter to president Donald Trump calling for clemency for Julian Assange and other WikiLeaks staff members. They are asking the US government to drop the investigation against WikiLeaks.
The US government is obviously perturbed that some individuals find it necessary to release pertinent information proving that we are being lied to by the government every second of every day. But some whistleblowers, such as Snowden, and journalists and government workers alike, have signed an open letter to the president that calls prosecuting WikiLeaks "a threat to all free journalism". The letter asks the Department of Justice to drop the plans to charge Assange and other WikiLeaks staff members.
"If the DoJ is able to convict a publisher for its journalistic work, all free journalism can be criminalised," says the open letter, released on Monday by the Courage Foundation, a trust that raises funds for the legal defenses of whistleblowers, including Snowden. The group launched a campaign in support of WikiLeaks last month.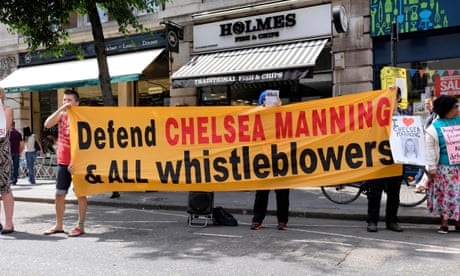 Another section of the letter reads:
"It was a free and robust press that provided you with a platform on which to run for president. Defending a truly free press requires freedom from fear and favour and the support of journalists and citizens everywhere; for the kind of threat now facing WikiLeaks – and all publishers and journalists – is a step into the darkness."
WikiLeaks is just about the only way for American civilians to receive the truth about what the government is doing. With many media outlets spinning the news and creating disingenuous headlines, WikiLeaks stands alone as the 100% factual information that most Americans are craving. Donald Trump even praised WikiLeaks on the campaign trail, as Assange released emails from Hillary Clinton's campaign chair, John Podesta.
Trump even told a Pennsylvania rally in October 2016, "I love WikiLeaks." The organization had leaked Hillary Clinton's emails and her disturbing activities likely affected the outcome of the presidential election. But Trump has since changed his tune, and others in his administration have never expressed the same enthusiasm, perhaps fearing that their emails could be next.
The US attorney general, Jeff Sessions, said last month that Assange's arrest was a "priority" for the government. Sessions' harsh comments also prompted the open letter. Government officials are terrified of WikiLeaks, and they should be. Their stranglehold on information is over thanks to the website, and Assange has been able to prove that we can take power from the government if we are willing to read the truth – regardless of how uncomfortable it can make some.
Hopefully, the letter will strike a chord with not only those who seek freedom from an ever expanding government but also those who look at the government as some sort of savior. Without whistleblowers, we would not likely know the truth about the crimes committed by the government with our money. The freedom of the press is under attack like it has never been before and when attacking the free press, there is a stifling of information.
*Special thanks to Edward Snowden and Chelsea Manning for leaking information we all deserved to know.
Delivered by The Daily Sheeple
We encourage you to share and republish our reports, analyses, breaking news and videos (Click for details).
---
Contributed by Dawn Luger of The Daily Sheeple.
Dawn Luger is a staff writer and reporter for The Daily Sheeple. Wake the flock up – follow Dawn's work at our Facebook or Twitter.