The Russian military produced an impressive array of evidence that clearly shows that ISIS oil is being smuggled into Turkey on an industrial scale. How is Barack Obama going to get out of this one?
Conspiracy Fact and Theory
Obama's ISIS Oil Scandal Deepens as Russia Produces Stunning Photographic Evidence
How is Barack Obama going to get out of this one?
On Tuesday, the Russian military produced an impressive array of evidence that clearly shows that ISIS oil is being smuggled into Turkey on an industrial scale. The evidence included photographs taken by satellite and during aerial reconnaissance missions. What the Russians have shown the world is extremely compelling, and it raises some very disturbing questions. First of all, how involved is the Turkish government in all of this? There is no way in the world that an endless parade of trucks carrying ISIS oil could have marched through Turkish border checkpoints without the cooperation of the central government. Secondly, what did Obama know and when did he know it? The U.S. military has far better surveillance capabilities than the Russians do, and so it seems absolutely absurd to suggest that Obama didn't know what was going on.
This new Russian evidence was presented to the world by Deputy Defense Minister Anatoly Antonov, and he says that "thousands of oil trucks" have been going back and forth over the Turkish border…
According to Deputy Defense Minister Anatoly Antonov, Russia is aware of three main oil smuggling routes to Turkey.

"Today, we are presenting only some of the facts that confirm that a whole team of bandits and Turkish elites stealing oil from their neighbors is operating in the region," Antonov said, adding that this oil "in large quantities" enters the territory of Turkey via "live oil pipelines," consisting of thousands of oil trucks.
But Antonov didn't stop there. He went on to publicly accuse President Erdogan of Turkey and his family of running the entire operation…
"Turkey is the main consumer of the oil stolen from its rightful owners, Syria and Iraq. According to information we've received, the senior political leadership of the country – President Erdogan and his family – are involved in this criminal business," said Deputy Defence Minister Anatoly Antonov.

"Maybe I'm being too blunt, but one can only entrust control over this thieving business to one's closest associates."

"In the West, no one has asked questions about the fact that the Turkish president's son heads one of the biggest energy companies, or that his son-in-law has been appointed energy minister. What a marvelous family business!"

"The cynicism of the Turkish leadership knows no limits. Look what they're doing. They went into someone else's country, they are robbing it without compunction," Antonov said.
And he is right.
The Erdogan family is knee deep in this scandal, and Barack Obama has known about it the entire time. For much more on the involvement of the Erdogan family in the smuggling of ISIS oil, please see my previous article entitled "The Biggest Obama Scandal? He Knows That Turkey Is Buying Oil From ISIS And He Is Doing Nothing To Stop It".
During his presentation, Antonov gave us a lot of specifics. He even claimed that the Russians know precisely where much of this stolen oil ends up. The following comes from an Infowars report…
"The western route goes to Turkish ports on the Mediterranean coast, the north—to the refinery Batman in Turkey and the east—to the largest transshipment base in the village of Cizre," the Russian Ministery of Defense web page states.

Oil from fields near the Syrian city of Raqqa—said to be the capital city of the Islamic State—is transported at night through the border town of Azaz, Syria and Reyhanli, Turkey to the port of Iskenderun and Dörtyol where the stolen oil is loaded on tankers.

The Russians claim the convoys are under the control of al-Nusra, the terror group funded by the Gulf Emirates and that cooperates with the Islamic State and supposed moderates in the Free Syrian Army.
Posted below is one of the charts that Antonov used during his presentation. As you can see, the Russians are not just making "vague accusations"…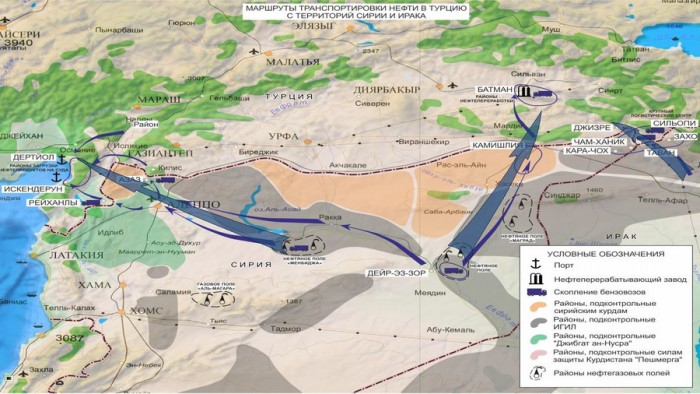 If you would like to watch video of Antonov's entire presentation, you can do so right here. What Antonov is saying in the video has been translated into English, so you will be able to understand it.
To me, one of the most striking things about the presentation was when Antonov accused the Turks of supplying fighters, ammunition and vehicles to ISIS and Al-Nusra. The following comes from an RT article…
Up to 2,000 fighters, 120 tons of ammunition and 250 vehicles have been delivered to Islamic State and Al-Nusra militants from Turkish territory, chief of National Centre for State Defense Control Lt.Gen. Mikhail Mizintsev said.

"According to reliable intelligence reports, the Turkish side has been taking such actions for a long time and on a regular basis. And most importantly, it is not planning to stop them."
If any of these allegations are true, Turkey should be immediately kicked out of NATO.
And if Barack Obama knew about any of this and refused to stop it, he should be facing impeachment proceedings.
For the moment, the official position of the U.S. government is that nothing that the Russians are saying is true…
Following Russian accusations, the US has again defended Turkey, denying any ties between Ankara and Islamic State.

"We flatly reject any notion that the Turks are somehow working with ISIL. Preposterous. And really very, kind of ridiculous," Steve Warren, Pentagon spokesman, said.
Really?
As an American, I am utterly embarrassed that our "leaders" would continue to try to deny what Turkey is doing after everything that has come out.
By flat out lying to the world, we are losing any credibility that we had left.
Hundreds of millions of dollars worth of stolen oil has been smuggled into Turkey, and our government still has the audacity to try to tell us not to look behind the curtain?
No wonder why most people over in Iraq are convinced that the U.S. is actually on the same side as ISIS. They don't trust anything that we have to say anymore. The following comes from the Washington Post…
Ordinary people also have seen the videos, heard the stories and reached the same conclusion — one that might seem absurd to Americans but is widely believed among Iraqis — that the United States is supporting the Islamic State for a variety of pernicious reasons that have to do with asserting U.S. control over Iraq, the wider Middle East and, perhaps, its oil.

"It is not in doubt," said Mustafa Saadi, who says his friend saw U.S. helicopters delivering bottled water to Islamic State positions. He is a commander in one of the Shiite militias that last month helped push the militants out of the oil refinery near Baiji in northern Iraq alongside the Iraqi army.

The Islamic State is "almost finished," he said. "They are weak. If only America would stop supporting them, we could defeat them in days."
If we are going to continue to lie about the hundreds of millions of dollars worth of stolen oil that has been smuggled into Turkey, why should anyone believe anything else that we have to say?
The Obama administration and the Turkish government have been caught in a massive, massive lie.
In the end, this is the kind of scandal that could potentially bring down the Obama administration, leaders in Congress, and many among the top brass in the U.S. military.
Delivered by The Daily Sheeple
We encourage you to share and republish our reports, analyses, breaking news and videos (Click for details).
---
Contributed by Michael Snyder of The American Dream.
About the author: Michael Snyder is a nationally-syndicated writer, media personality and political activist. He is the author of four books including Get Prepared Now, The Beginning Of The Endand Living A Life That Really Matters. His articles are originally published on The Economic Collapse Blog, End Of The American Dream and The Most Important News. From there, his articles are republished on dozens of other prominent websites. If you would like to republish his articles, please feel free to do so. The more people that see this information the better, and we need to wake more people up while there is still time.