Back in the day there ware none of the composts and fertilizers around that you can buy nowadays.
Editor's Choice
How We Used To Fertilize The Vegetable Garden
By Granny Spear
Back in the day there ware none of the composts and fertilizers around that you can buy nowadays. Mostly animal manure was used to fertilize the garden but sometimes it was too fresh, it hadn't been stored long enough and that's no good as it can burn the plant roots and often it would kill them as it was too strong.
Ernie used to make his own fertilizer in an old cider barrel. He kept it at the bottom of the garden because it was very smelly.
He would use fresh manure, just a shovel or two of it mind, and a shovel or two of wood ash from the fire. Then in would go as many nettles as he could find, and there were always plenty in the hedgerows close by. He would pull them up from the bottom, his hand under the leaves. Nettles only sting if you push against the barbs. Once he'd collected a load he would put them on the ground and stamp all over them to bruise them before throwing them in the barrel. It takes an awful lot of nettles to fill a cider barrel, usually he would come home with bundles he'd collected on the way to and from the farm.
When he had enough he would put in a few pails of water and give it a good stir up to mix in the ash and manure. the lid would go on and he'd leave it for about a month, just opening it to give it a stir a couple of times a week.
It was very concentrated and he diluted it down when he was ready to use it, It needed to be the colour of tea before you add the milk. The barrel would last the whole season even if we never used anything else. Oftentimes some would be left at the end of the season and he would just add to it to make sure there would be enough for the following spring.
Plants know what they needs see, they take what they need from the soil and leave the rest. Ern said that by mixing the ash and the manure and the nettles there was a good balance of things that made it useful all over the vegetable garden as all the ingredients provided different things to improve the soil. Just using one thing wouldn't suit all the plants so he mixed 'em altogether.
I think the natural way is better than all the chemical muck that goes into gardens now. It can't be good eating all those chemicals can it?
Regards
Maud
Granny Spear was born in a small cottage in Devon, Southern England in 1925. Married to farm labourer Ernest, she raised her family in the heart of the countryside without any of the amenities we rely on today. Using skills passed down from her mother, who had learned those same skills from her mother, she not only survived but positively thrived living a self-sufficient, off-grid lifestyle. Outliving her husband, one of her children and two of her grandchildren she stayed in the cottage until 2003 when a serious fall saw her hospitalized. She now lives with her daughter just four miles from her old home. For her 89th birthday her grandchildren and great-grandchildren brought her an iPad, which she instantly rejected until they showed her Angry Birds…After much persuasion she has agreed to share some of her knowledge with us about what she calls the 'old days'
Delivered by The Daily Sheeple
We encourage you to share and republish our reports, analyses, breaking news and videos (Click for details).
---
Contributed by Tess Pennington of Ready Nutrition.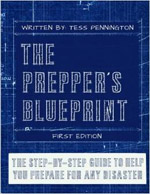 Tess Pennington is the author of The Prepper's Blueprint, a comprehensive guide that uses real-life scenarios to help you prepare for any disaster. Because a crisis rarely stops with a triggering event the aftermath can spiral, having the capacity to cripple our normal ways of life. The well-rounded, multi-layered approach outlined in the Blueprint helps you make sense of a wide array of preparedness concepts through easily digestible action items and supply lists.
Tess is also the author of the highly rated Prepper's Cookbook, which helps you to create a plan for stocking, organizing and maintaining a proper emergency food supply and includes over 300 recipes for nutritious, delicious, life-saving meals.