Not everyone is lucky enough to live in a temperate climates where they can create a year-round garden. Sometimes, we have to make do with what we have.
Editor's Choice
Get a Head Start on Gardening with Cold Frames
Not everyone is lucky enough to live in a temperate climates where they can create a year-round garden. Sometimes, we have to make due with what we have.
Using a cold frame is a great way to get a head start on starting your garden or used as a way to extend your growing season during those cooler months.
Cold frames are essentially a mini greenhouse where you utilize a transparent top (glass or plastic) to allow sunlight to come into the structure and prevent the heat to escape via convection that would otherwise occur, particularly at night. They create a microclimate that provides warmer air and soil temperature, as well as provides young plantlings with shelter from wind. In cold-winter or wet regions, these characteristics allow plants to be started earlier in the spring, and to survive longer into the fall and winter. The most simplistic way to create a cold frame to to add a piece of glass over a box. However, the larger the cold frame is, the more plants you can grow.
Here are a few tips to keep in mind:
Location of the cold frame can maximize plant growth
Set the frame on bricks to limit the exposure to soil and moisture
Angling the top of your cold frame towards the south will help you collect more sunlight for your plants
Cold frames should be at least 12-18 inches deep in order to grow vegetables
Warning: be wary of  window frames with lead paint. Lead paint can seep into soil where your plants grow. Tests for lead-based paints are available at hardware stores.
Salvaging windows or plastic sheeting is a great way to make due with supplies you already have on hand. Plastic will not insulate the plants as much as glass will. Further, glass will create a stronger structure. It will especially be good to use glass for areas where large amounts of snow occur.
There are different ways to build a cold frame and some are more permanent structures, and some cold frames can be moved for a temporary location. Therefore, do some research on your part to find which way is best for you.
Delivered by The Daily Sheeple
We encourage you to share and republish our reports, analyses, breaking news and videos (Click for details).
---
Contributed by Tess Pennington of Ready Nutrition.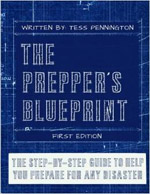 Tess Pennington is the author of The Prepper's Blueprint, a comprehensive guide that uses real-life scenarios to help you prepare for any disaster. Because a crisis rarely stops with a triggering event the aftermath can spiral, having the capacity to cripple our normal ways of life. The well-rounded, multi-layered approach outlined in the Blueprint helps you make sense of a wide array of preparedness concepts through easily digestible action items and supply lists.
Tess is also the author of the highly rated Prepper's Cookbook, which helps you to create a plan for stocking, organizing and maintaining a proper emergency food supply and includes over 300 recipes for nutritious, delicious, life-saving meals.