The Ukrainian issue is more than just a grasp for resources – it's quickly becoming a tipping point where countries are drawing lines in the sand.
Editor's Choice
Economic Warfare Plays Out Between East and West
The Ukrainian issue is more than just a grasp for resources – it's quickly becoming a tipping point where countries are drawing lines in the sand.
Rather than battling this out the archaic way with military action, many countries, including the U.S. are using economic warfare as a new weapon to gain traction.
Senator McCain suggests that hitting their weakened economy is the best way to beat them at their own game. He goes on and questions President Obama for his empty threats on not placing additional sanctions and penalties on Russia for their part in the dismantling of the Ukraine. "Shouldn't the President of the United States be speaking forcefully and strongly? And didn't the President say, 'If they carried out further action there would be further sanctions?' So far, we haven't heard anything."
Two Can Play At That Game
The U.S. isn't the only country using economic warfare. In an article published last week, Russia dropped a new bombshell announcing that the country is not only de-coupling its trade from the dollar, but also that its hydrocarbon trade will in the future be carried out in rubles and local currencies of its trading partners – no longer in dollars – see Voice of Russia.
This seemingly defiant act is no doubt a crushing blow to the Western world and could likely begin to destabilize the U.S. economy so severely it has the capacity to bring the American empire onto its knees.
"In a declaration by Russia's Press TV, "China will re-open the old Silk Road as a new trading route linking Germany, Russia and China, allowing to connect and develop new markets along the road, especially in Central Asia, where this new project will bring economic and political stability, and in Western China provinces, where 'New Areas' of development will be created."
To lure other European countries to this new trading route, Russia and China have allied themselves with Germany – the economic driver of Europe. With Germany holding the world's fourth largest economy, "they will be like a giant magnet, attracting other European trading partners of Germany's to the New Silk Road. What looks like a future gain for Russia and China, also bringing about security and stability, would be a lethal loss for Washington." (Source)
How This Can Affect You
As this new form of warfare plays out by the worlds super powers, all monetary systems will be affected. So how is this going to affect you? These effects will cause a continued degradations of the U.S. dollar with the real possibility that China and Russia will stop funding our debt. If and when this happens, the-you-know-what will inevitably hit the fan. This type of economic warfare will be long lasting and now is the time to prepare.
These events could cause a shift in the world as we know it. Get real about your preparedness efforts and continue to stay vigilant on world matters.
Delivered by The Daily Sheeple
We encourage you to share and republish our reports, analyses, breaking news and videos (Click for details).
---
Contributed by Tess Pennington of Ready Nutrition.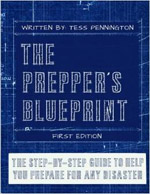 Tess Pennington is the author of The Prepper's Blueprint, a comprehensive guide that uses real-life scenarios to help you prepare for any disaster. Because a crisis rarely stops with a triggering event the aftermath can spiral, having the capacity to cripple our normal ways of life. The well-rounded, multi-layered approach outlined in the Blueprint helps you make sense of a wide array of preparedness concepts through easily digestible action items and supply lists.
Tess is also the author of the highly rated Prepper's Cookbook, which helps you to create a plan for stocking, organizing and maintaining a proper emergency food supply and includes over 300 recipes for nutritious, delicious, life-saving meals.