The measles outbreak that began at Disneyland is continuing to spread throughout many parts of the United States. Hospitals could quickly be overwhelmed. Here's how to prepare for this disaster scenario.
Controlling the Herd
Disaster at Disneyland: Measles Outbreak Continues to Spread
Orange County authorities warned on Friday that the increase of measles cases, which began at [amazon text=Disneyland&asin=1454908130] and California Adventure Park, are only expected to spread.
Health officials believe the outbreak of this disease began when a single person with measles visited the theme parks during the period of December 15 to December 20, thus exposing many of the park's visitors to the virus.
Thus far, health officials have identified 39 people in four states who have contracted measles. The vast majority of infections –35 — are in California. Utah recorded two cases, while Colorado and Washington state each had one case.
Although, the United States declared that measles (also known as Rubeola) had been eliminated in 2000, however, recent outbreaks in the Philippines and other countries brought the disease back to concerning levels in the United States. In fact, the U.S. has experienced a 20-year high in measles cases during 2014, with 644 cases from 27 states reported to CDC's National Center for Immunization and Respiratory Diseases (NCIRD). This is the greatest number of cases since measles elimination was documented in the U.S. in 2000.
Source CDC
Hospitals Could Be Ill-Equipped to Handle Measles Outbreak
The reappearance of measles has fueled widespread concern among health officials. Many are concerned that the hospitals are ill-equipped to deal with the influx of measles cases which could create an even more life-threatening event. Delay in diagnosis of the disease and infected patients who were not isolated immediately (similar to the Ebola scare that occurred in the United States) can potentially fuel the infection rate of this disease.
In a report that ranked U.S. hospitals and states on their ability to deal with outbreaks only proved how unprepared these medical facilities are. Many states ranked low in comparison to other countries. On a scale of 1 to 10, half the states and Washington, D.C., scored a 5 or lower, according to the report released by the Robert Wood Johnson Foundation and the Trust for America's Health. The hospitals were measured on matters as diverse as food safety, vaccination rates, hospital-associated infections and being prepared for emerging threats (source).
If the hospitals are ill-equipped to deal with communicable diseases at a basic level, how will they deal with an increase in measles or other communicable disease cases? Due to the extreme contagiousness of measles, this could pose a huge problem in regards to treatment and prevention.
According to an article at Live Science, Dr. Stephen Ostroff, of the Pennsylvania Department of Health states in regards to measles, "[It] is really quite extraordinary in how contagious it is," Ostroff said. He notes that if you were not vaccinated against measles, and you were in the same room as an infected person, the likelihood that you would get the disease is greater than 90 percent."
There is a Chance That You Can Still Get Measles Even If You Are Immunized
This article is not another attempt to push immunizations. In the case of measles, there have been outbreaks that occurred even in immunized communities. In 1985, a measles outbreak occurred in Corpus Christi, Texas – a virtually fully immunized (>99%) school population. This has happened countless other times as well. In 2008, there was also a  outbreak in San Diego, California. So, there is a chance you can still get measles if you have the vaccine.
The question begs to be asked if there is a perfect storm brewing. If hospitals are already at a disadvantage in dealing with contagious outbreaks and the susceptibility of catching measles is still present even in a vaccinated population, what will happen if cases still increase?
The initial symptoms of measles include:
Fever
Dry cough
Runny nose
Sore throat
Inflamed eyes (conjunctivitis)
Tiny white spots with bluish-white centers on a red background found inside the mouth on the inner lining of the cheek — also called Koplik's spots
A skin rash made up of large, flat blotches that often flow into one another
The infection occurs in sequential stages over a period of two-to-three weeks.
Infection and incubation. For the first 10 to 14 days after you're infected, the measles virus incubates. You have no signs or symptoms of measles during this time.
Nonspecific signs and symptoms. Measles typically begins with a mild to moderate fever, often accompanied by a persistent cough, runny nose, inflamed eyes (conjunctivitis) and sore throat. This relatively mild illness may last two or three days.
Acute illness and rash. The rash consists of small red spots, some of which are slightly raised. Spots and bumps in tight clusters give the skin a splotchy red appearance. The face breaks out first, particularly behind the ears and along the hairline. Over the next few days, the rash spreads down the arms and trunk, then over the thighs, lower legs and feet. At the same time, fever rises sharply, often as high as 104 to 105.8 F (40 to 41 C). The measles rash gradually recedes, fading first from the face and last from the thighs and feet.
Communicable period. A person with measles can spread the virus to others for about eight days, starting four days before the rash appears and ending when the rash has been present for four days.
Practice hygiene and cleanliness:
Wash your hands often.
If soap and water aren't available, clean your hands with hand sanitizer (containing at least 60% alcohol).
Don't touch your eyes, nose, or mouth. If you need to touch your face, make sure your hands are clean.
Cover your mouth and nose with a tissue or your sleeve (not your hands) when coughing or sneezing.
Try to avoid close contact, such as kissing, hugging, or sharing eating utensils or cups, with people who are sick.
How to Prepare for Measles
Health officials recommend that unvaccinated people in close contact with an infected patient be quarantined for 21 days. Measles can be dangerous, especially for babies and children who may experience complications such as pneumonia. In rare cases, measles can be deadly.
Prepare accordingly for the possibility of being exposed to this virus if the threat continues to grow. Because the average incubation period for measles is 14 days (with a range of 7-21 days), those who have been infected may not even know they have measles, and could continue to spread the virus. Therefore, if you suspect you may have been exposed, you will need to quarantine yourself for up to two weeks and stay away from those with compromised immune systems. Here are some suggestions for things to do while are under quarantine.
Further, have supplies in place for a two week period to ensure you have everything you need. In The Prepper's Blueprint, I have outlined a step-by-step process to prepare for short and long-term disasters that includes lists of supplies and suggestions to make your prepping endeavors easier.
We will keep you informed on any developments with this story.
Additional Reading:
Explaining measles outbreaks despite high vaccination status
Delivered by The Daily Sheeple
We encourage you to share and republish our reports, analyses, breaking news and videos (Click for details).
---
Contributed by Tess Pennington of Ready Nutrition.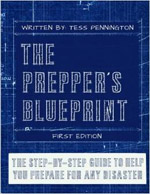 Tess Pennington is the author of The Prepper's Blueprint, a comprehensive guide that uses real-life scenarios to help you prepare for any disaster. Because a crisis rarely stops with a triggering event the aftermath can spiral, having the capacity to cripple our normal ways of life. The well-rounded, multi-layered approach outlined in the Blueprint helps you make sense of a wide array of preparedness concepts through easily digestible action items and supply lists.
Tess is also the author of the highly rated Prepper's Cookbook, which helps you to create a plan for stocking, organizing and maintaining a proper emergency food supply and includes over 300 recipes for nutritious, delicious, life-saving meals.