This means that a war will likely take place prior to the end of 2015 or in early 2016. This war will undoubtedly be nuclear with the losing side resorting to the nuclear option.
Armageddon Scenarios
America's Epitaph: The U.S. Will Soon Stand Alone vs. the Nations of the World
This article represents the beginning of the end of the United States. Many who will read this article will find themselves in agreement, at least initially, because the developments which serve to threaten the future existence of the United States because the events are well-documented. However, many will reach a saturation point and will close their computer screen and write an angry response and accuse the author of "fearmongering".  I would rather be labeled a fearmonger than be correct about the developments contained in this article. Americans need to deal realistically with the real reasons why America is about to be run over, both economically and militarily by Putin and his new found friends across the globe. I cannot shake the feeling that this is America's epitaph and no amount of my own personal cognitive dissonance will convince me otherwise.
The Russo-Chinese Energy Deals
The haughtiness of the West as they impose sanctions on Russia over Ukraine is almost laughable. The sanctions are a boomerang in disguise and will come back at us to destroy the American economy which will lead to World War III.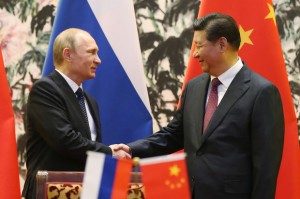 At the heart of the American economy and the Petrodollar is energy and Russia and China just cemented an agreement where they do not need the dollar. The Russia –China  $400 billion energy deal, signed in May this year will by 2018 have some 38 billion cubic meters of gas flow through the so-called 'Holy Grail' pipeline from the largest gas producer, Russia, to the largest energy user, China. This deal  is many things at once: It is, of course a symbolic step in the process of decoupling hydrocarbon trading from the dollar, as it foresees payments in local currencies, rubles and yuan. It sidesteps the  Petrodollar for hydrocarbon trading. Over one-third of the planet just moved away from the dollar when this recent deal was cemented.
As if the Russian-Chinese energy deal is not bad enough, the BRICS are driving a stake into the American economy as they have set up a  new development and investment bank for all of the BRICS countries. The banks  will be headquartered in Shanghai, China, with the first president of the bank will be from India. The BRICS nations, of course, are a group of emerging economies and draws its name from the five member countries – Brazil, Russia, India, China and South Africa. BRICS is also considering starting a joint infrastructure fund with an initial capital infusion of around $100 billion to begin investing in each other's transportation, water and sewage systems.
Turkey's Gas Deal with Russia Is a Strategic Game-Changer
Turkey's gas deal, just inked with Russia, represents one more time that the grand chess master, Putin, has outmaneuvered the amateur checkers player, Obama.  With this gas deal, Turkey may not have formally left NATO, but make no mistake about it, Turkey has left NATO.
Turkey and Russia are long-time adversaries since the implementation of the Cold War and the advent of the 1947 Truman Doctrine. This gas deal is a staggering blow to the U.S. and NATO because Turkey has been not only a key NATO ally, but it has been the linchpin of all American efforts to bypass Russia with oil and gas pipelines. The situation caused by the Turkey-Russia gas deal is so dire, that in the event of World War III, the U.S. would be forced to destroy this pipeline. In other words, Turkey has just become a military ally with Russia.
Russia's decision to cancel Russia's South Stream gas and oil pipeline project was bad enough, but this coupled with Turkey's signing a gas and oil deal with Russia delivered a staggering and perhaps knockout blow to the ability of the United States to hold together a rapidly fragmenting NATO. South Stream was envisioned as a way to supply Central and Western Europe with Russian gas without worrying about disruptions caused by the Ukrainian situation.
South Stream was supposed to run through the Black Sea, Bulgaria, Serbia and Hungary into Austria and points west and it attempted to counter South Stream by proposing another pipeline, called "Nabucco" which was to have linked Austria, Hungary, Romania and Bulgaria with Turkey and Azerbaijan. This pipeline failed because the United States failed to secure funding for the pipeline and or a source of gas. Are you keeping a body count of the NATO allies which are going to have extreme difficulty heating their homes and businesses and are now subject to Putin's blackmail? From a military perspective, these nations provide a buffer between Russian invasion of America's primary NATO allies of Germany, France, Italy and the UK. Putin will now focus on seeking defectors from these four allies.
Germany, France and Italy's Motivation to Leave NATO
The eventual defection of Germany, France and Italy is easy to foretell. This is a case of a picture, or in this case, an energy map, is worth a thousand words.
To anyone possessing an IQ above room temperature, this map is the road map to the destruction of NATO. Key NATO allies are being held hostage by Putin through energy blackmail. If NATO was to survive, the time to have attacked Russia was last Spring, but that ship has sailed.  Can you imagine, you just opened your contacts list on your phone and all of friends and business associates are gone. This is what is happening to the United States.
Britain Is Waffling At the Threat of the Coming World War
America is on the verge of losing its closest and most important ally, Great Britain.
Ahead of the Vienna Conference on the Humanitarian Impact of Nuclear Weapons, members, mostly British, have expressed extreme trepidation of the possibility of coming nuclear war. The conference participants stated that "Urgent action is needed to minimize the risk of a nuclear war".  Some of the signatories include:
Conservative Defense Secretary Lord King
A Labor Party counterpart Lord Browne
Former Foreign Secretaries Margaret Beckett and David Owen
Former NATO Deputy Supreme Allied Commander Europe, Lord Richards
Former Liberal Democrat leader Sir Menzies Campbell
John McColl, former Chief of the Defense Staff,
Even General James Cartwright, Former Vice-Chairman of the US Joint Chiefs of Staff, signed the following letter.
The above and other prominent UK leaders stated the following:
"Tensions between nuclear-armed states and alliances in the Euro-Atlantic area and in both South and East Asia remain ripe with the potential for military miscalculation and escalation," says the letter to Sebastian Kurz, Austria's Minister for Foreign Affairs.

"In a vestige of the Cold War, too many nuclear weapons in the world remain ready to launch on short notice, greatly increasing the chances of an accident.

"This fact gives leaders faced with an imminent potential threat an insufficient amount of time to communicate with each other and act with prudence."

"There should also be better crisis management in "conflict hotspots" and new security measures, warning that stockpiles were "insufficiently secure, making them possible targets for terrorism".

The above is a chicken-little, Neville Chamberlain type of proclamation which is telling the United States that we will not be supported as world events move toward World War III. America will soon be alone.
Delivered by The Daily Sheeple
We encourage you to share and republish our reports, analyses, breaking news and videos (Click for details).
---
Contributed by Dave Hodges of The Common Sense Show.