If you wonder why the Navy SEALs are so good at what they do, it's because they are trained to think in "what-if" scenarios.
Editor's Choice
A Navy SEALs Secrets to Situational Awareness
If you wonder why the Navy SEALs are so good at what they do, it's because they are trained to think in "what-if" scenarios. In their line of work, a SHTF situation is right around the corner and they need to know how to react quickly. Their motto is: Be prepared, feel confident, step up, and know exactly how to survive any life-threatening situation. 
Their mental preparation requires intensive training and using situational awareness is one of those important factors. Put simply, situational awareness is having an understanding and an awareness of what is going on in your environment. They use a checklist to determine safe and unsafe areas.
Situational Awareness Checklist
Try to guess what individuals around you are thinking or doing.
Look for odd behavior or things that seem out of place.
Determine where you'd go if you had to seek immediate cover from an explosion or gunshots.
Find the two closest exits.
Determine whether someone is following you or taking an unusual interest in you.
Mentally preparing oneself for a disaster is one of the most important aspects of being prepared. Like any aspect of preparedness, practice makes perfect. Using the checklist above, regularly simulate practice drills to get your mind into the habit of using situational awareness. So many people walk around completely unaware of their surroundings; and at times, walk into dangerous situations. Remember to stay alert and be aware of your surroundings – it could save your life.
Delivered by The Daily Sheeple
We encourage you to share and republish our reports, analyses, breaking news and videos (Click for details).
---
Contributed by Tess Pennington of Ready Nutrition.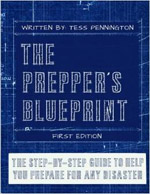 Tess Pennington is the author of The Prepper's Blueprint, a comprehensive guide that uses real-life scenarios to help you prepare for any disaster. Because a crisis rarely stops with a triggering event the aftermath can spiral, having the capacity to cripple our normal ways of life. The well-rounded, multi-layered approach outlined in the Blueprint helps you make sense of a wide array of preparedness concepts through easily digestible action items and supply lists.
Tess is also the author of the highly rated Prepper's Cookbook, which helps you to create a plan for stocking, organizing and maintaining a proper emergency food supply and includes over 300 recipes for nutritious, delicious, life-saving meals.