These shotshells come in practically all of the calibers…
Armageddon Scenarios
4 Reasons Why Preppers Need Shotshells in Their Long-Term Survival Supplies
Ready Nutrition guys and gals, this piece is going to explain the many merits of shotshells. This is not the same as shotgun shells, although they work upon the same general principle: a cartridge for a pistol either "tamped" at the end or with an extension containing pellets to fire. These "pellets" are shot: not the type of play-toy pellets fired from a kid's plastic toy gun (if that's even allowed anymore).
These shotshells come in practically all of the calibers, from .22 on up to your larger magnum handguns, such as .44 magnums. The principal is the same as a shotgun, but with a handgun: to throw out a cone of this shot (pellets) of steel or lead for a wider dispersion, thereby allowing your pistol to function in the manner of a shotgun.
It's time to prepare for the worst-case scenario with this best-selling preparedness manual
The purposes you would want something such as this may not be obvious, but we're going to cover them here, so that you may look at these rounds in a different light. Let's cover some uses:
The shotshells do have a drawback. If you're using them in a semi-automatic pistol, the pressure is not strong enough to rack the slide enough to chamber another round. In this manner, only a revolver is a sure-fire way to ensure you will be able to fire rounds in succession. Once again, it will depend on the make and model of your revolver, as well as the size of the cartridge to determine whether the hammer will be all the way to the rear if it's a double-action revolver.
Try it out, and pick up a box. They're relatively inexpensive and easy enough to find at your local outdoor sporting goods or gun store. Throw a box in with your gear and when you're out and about. You never know when they'll come in more than just handy..and when they'll give you the "win" in a situation where life and limb are on the line.  JJ out!
Delivered by The Daily Sheeple
We encourage you to share and republish our reports, analyses, breaking news and videos (Click for details).
---
Contributed by Jeremiah Johnson of Ready Nutrition.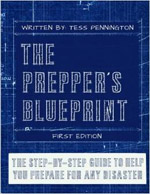 Tess Pennington is the author of The Prepper's Blueprint, a comprehensive guide that uses real-life scenarios to help you prepare for any disaster. Because a crisis rarely stops with a triggering event the aftermath can spiral, having the capacity to cripple our normal ways of life. The well-rounded, multi-layered approach outlined in the Blueprint helps you make sense of a wide array of preparedness concepts through easily digestible action items and supply lists.
Tess is also the author of the highly rated Prepper's Cookbook, which helps you to create a plan for stocking, organizing and maintaining a proper emergency food supply and includes over 300 recipes for nutritious, delicious, life-saving meals.