In the presidential reality show, who are the stars voting for?
In Romney's corner:
Clint Eastwood:
"I think the country needs a boost and hopes Romney will restore "a decent tax system that we need badly … so that there's a fairness and people are not pitted against one another as who's paying taxes and who isn't."
Chuck Norris:
"Truthfully, I believe that Mitt has the skills and organization to defeat Obama and stop his fundamental transformation of America."
Jeff Foxworthy:
"I avoided politics for 53 years. I don't like politics, I don't like big government. But I do love this country…Mitt Romney is the guy with the best chance to beat Obama and take this country back."
Nicki Minaj
"I'm a Republican voting for Mitt Romney/You lazy b*****s is f*****g up the economy."
Ted Nugent:
"After a long heart & soul conversation with Mitt Romney today I concluded this goodman will properly represent we the people & I endorsed him." 
Also endorsing Romney are Jane Pitt (Brad Pitt's mother ), Pat Boone, Donny Osmond, Donald Trump, Robert Duvall, former porn star Jenna Jameson, Jon Voight (Angelina Jolie's dad), Kid Rock, Stacy Dash, Lindsay Lohan, John Elway, Kelsey Grammar, KISS rocker Gene Simmons, and Scott Baio.
On Team Obama:
Eva Longoria:
"I love politicians who have walked the walk and can talk the talk, but they've really proven themselves."
Lisa Edelstein:
"I think he's an incredible president. I'm really proud of him. I look forward to seeing what he's going to do in the next 4 years. I think he had an enormous task at hand and I don't think those changes happen very quickly."
Samuel L. Jackson:
"Sorry my friend, but there's no time to snore. An out of touch millionaire has just declared war. On schools, the environment, unions, fair pay. We're all on our own if Romney has his way. And he's against safety nets. If you fall, tough luck. So I strongly suggest that you wake the f*** up."
Don't forget George Clooney,Will Smith,  Gwen Stefani, Sarah Jessica Parker, Robert Downey Jr, Alec Baldwin, Oprah Winfrey, Betty White, Chris Rock and Bill Nye the Science Guy
And for Libertarian candidate Gary Johnson: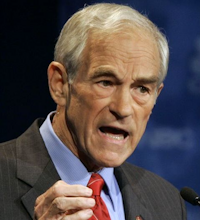 Ron Paul:
"I can't imagine endorsing anybody else."
Jesse Ventura:
"If people truly want to rebel this year, then vote for Gary Johnson."
Barry Goldwater:
"I'm impressed with Gary Johnson because of his success in two terms as Governor of New Mexico. He demonstrated his ability to govern with extreme opposition. I definitely think he's qualified, if for no other reason than that, to be President of the United States. He's got more experience than Obama ever hoped to have in managing government and governmental affairs. … He's got a successful track record, and he has the tools he needs to lead."
Also…Andrew Napolitano, Penn Gillette, Mr. Teller, Willie Nelson, Sean Hannity, Jon Stossel, Peter Schiff, Rob Power, Christina Tobin and Buddy Roemer
Delivered by The Daily Sheeple
We encourage you to share and republish our reports, analyses, breaking news and videos (Click for details).
---
Contributed by Kimberly Paxton of www.TheDailySheeple.com.
Kimberly Paxton, a staff writer for The Daily Sheeple, is based out of upstate New York. You can follow Kimberly on Facebook and Twitter.
This content may be freely reproduced in full or in part in digital form with full attribution to the author and a link to www.TheDailySheeple.com.