To Serve and Protect….the current police force at large in the United States has made a mockery of the slogan.
Apparently it takes half a dozen or more officers to "subdue" suspects crouched in defensive postures.
Nothing says, "Don't resist" like a dozen feet enthusiastically kicking a man laying on the ground covering his head. Nothing says, "Comply" like beating a handcuffed man in the face when he cannot even sit up without support. Nothing says, "Do what I say" like bullies with badges violently enforcing their will on the general public, while the law rests firmly on their side.
Like some sort of marauding barbarians, the cops molest women, they beat people, they destroy property. Raping and pillaging are no strangers to today's police force. They shoot children, old ladies – always with the excuse that they are defending themselves. They humiliate their victims under the law by conducting searches of private orifices. Currently the law is what they say it is, at least until you are in front of a judge – at which point it could go either way.
These images are disturbing and graphic. This is America.
This is not to say that there aren't some good cops out there. Unfortunately, they seem to be in the minority. Furthermore, because of the actions of the other thugs in blue, putting on that badge and uniform is soon going to be much like putting on a bullseye t-shirt, as more women get sick of being molested, more men get sick of being brutally beaten, and more of America decides that they just aren't going to take it.
We won't live in fear forever. We are the current targets of this violence but one day an irrevocable line will be crossed and there will be no going back. When that happens, the  hunters just might find out what it feels like to be the hunted.
Additional reading:
Excessive Force: Cops Beat Man With Down Syndrome
Man Subjected to 8 Anal Exams After Routine Traffic Stop
Shouldn't the Police Have a "Do Not Fire Unless Fired Upon" Rule?
Copping a Thrill: Two of Philly's Finest Strip a Woman, Masturbate, and then Lie About It
Traffic Stop Humiliation: Woman Ordered to "Shake out her Bra" – Cop Received ONE Day Suspension
Don't Anal Probe Me, Bro! Another NM Man Subjected to Rectal Exam After Traffic Stop
Cops Strip Search Mom, "Forcibly" Pull Tampon Out of Her for Maybe Rolling Through Stop Sign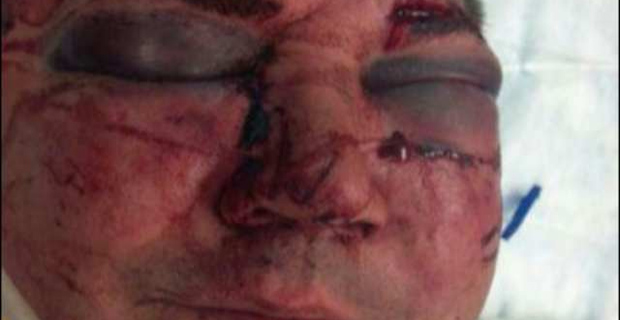 Delivered by The Daily Sheeple
We encourage you to share and republish our reports, analyses, breaking news and videos (Click for details).
---
Contributed by Kimberly Paxton of www.TheDailySheeple.com.
Kimberly Paxton, a staff writer for The Daily Sheeple, is based out of upstate New York. You can follow Kimberly on Facebook and Twitter.
This content may be freely reproduced in full or in part in digital form with full attribution to the author and a link to www.TheDailySheeple.com.